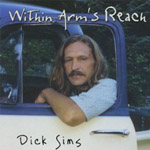 1. <!A HREF="mp3/dicksims.takealittletime.mp3">Take a Little Time<!/A>
2. When Old Worlds Fall
3. Man On The Run
4. Katie
5. One More Toke
6. Downtown
7. Blue Skies
8. Sitting Here By Myself
9. Spend The Night
10. Time Code
11. Don't Go Away
12. Do What's Right

Produced and Arranged by
Pride Hutchison
Dick Sims - Vocal, Hammond B-3 Organ, Piano, Melodica, Acoustic and Electric Guitars
Marcy Levy - Vocal
Shannon McNally - Vocal
Rod Jackson - Vocal
Todd Griffin - Vocal
Lester Chambers - Harmonica
William "Stumuck" Nugent - Saxophone
Pride Hutchison-Drums
Jamie Oldaker - Drums
Richard Hayward - Drums
John Heard - Upright Bass
Pat Senatore - Upright Bass
Gary Neal - Electric Bass
Dusty Wakeman - Electric Bass
Doug Pettibone - Electric and Acoustic Guitars, Electric Mandolin, Pedal Steel, Lap Steel
Josh Grange - Electric and Slide Guitars, Bass
Dale Lawton - Electric Guitar
Freddy Flint - Piano and Electric Guitar
Unity Horns - Trombone, Trumpet and Saxophone
Elmo Webber - Synthesizer
Danny Frankel - Percussion
Jim Barth - Strings

Dick Sims
Within Arm's Reach


Dick Sims' professional career began in 1968, when at the age of 17, he appeared on the last Ed Sullivan Show ever aired, performing with Phil Driscol and Yo' Mama. It was at the age of 5 that music first took a hold of Dick and there was never any question of what he was going to do with his life. He grew up in musically rich Tulsa, OK and was earning money, playing clubs by the age of 12.

Arguably one of best rock keyboard players in the world, his work on the Hammond B-3 is, I think unparalleled. He recorded with Bob Seger on his landmark LP, 'Back in '72', and on blues great Freddie King's 'Burglar', before joining Eric Clapton and his band in 1974 for his comeback album, '461 Ocean Boulevard'. From 1974 through 1981, Dick was a driving force in Clapton's band, playing the Hammond B-3 organ and piano on a number of hit songs including; "I Shot the Sheriff", "Wonderful Tonight", "Cocaine", "Lay Down Sally", and "Willie and the Hand Jive", and accompanying Eric and his band on eight world tours. Dick has also performed and recorded with artists such as JJ Cale, Peter Tosh, Joan Armatrading, Yvonne Elliman, the Pure Prairie League and most recently with Vince Gill.

After taking a sabbatical from the music world for nearly 10 years, Dick returned to Los Angeles and started composing the songs that would make up the album, 'Within Arms Reach'. He joined forces with music producer, Pride Hutchison who also hails from Tulsa.

With classic rock songwriting and Dicky's amazing Hammond B-3 organ playing, and featured classic and contemporary players such as: Jamie Oldaker (ex-Clapton drummer) and Richie Hayward (Little Feat drummer), jazz bassists, John Heard (Count Basie, etc.…) and Pat Senatore (ex-Tijuana Brass), Lester Chambers (Chambers Brothers) on harmonica, Doug Pettibone on guitar (Lucinda Williams) and most noticeably the familiar and stunning vocal style of Marcy Levy (ex-Clapton). Featuring guest vocals by Shannon McNally and Rod Jackson (Slash's Snakepit) the album covers a lot of musical territory, from the ethereal "Katie" and "Blue Skies" to the reggae "Don't Go Away", the folk/country of "Time Code" and "Sitting Here By Myself", the classic rocker "One More Toke", the upbeat, timbale laden "Man on the Run" and the haunting "Downtown" blues rock.